Sahro and Rose Valley
Sahro and Rose Valley
Trek Duration:
6 days / 5 nights
Trek Itinerary
Day 1 : Transfer from Marrakech through Ouarzazate to the Dades valley where we spend the night in a Berber house (gite). 300 kms / 7 hours driving
Day 2 : We set off with our mules through the M'Goun valley to Aguerzaka. 6hours walking
Day 3 : We follow the Ameskar Valley through Alemdoune to our campsite at Assif Quati. 5 hours walking
Day 4 : We follow the El Quati Valley with its mass of rose hedges through El Hot to Boutaghrar where we camp for the night. 5 hours walking.
Day 5 : We walk through severl Berber villages – Timstiguit – Ait Said – Hdida – to arrive at our campsite in Tabarkhacht. 5 hours walking
Day 6 : From here we drive back to Marrakech through the M'goun valley, Ouarzazate and the Tichka Pass. 6 hours driving / 300 kms.
About The Jebel Sahro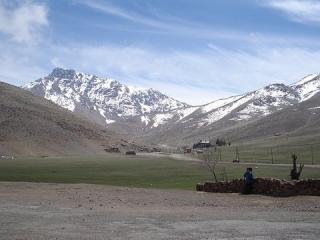 The Jebel Sahro is a mountain range between the High Atlas and the Sahara and is separated from the High Atlas by the valleys of the Dades and the Draa. Scenically it is an area of dramatic contrasts : palm trees, rose hedges, oases and stark, barren volcanic mountains and mud brick villages. Highlights include a glimpse of the Tadaout n'Tablah mountains and an amazing upright rock pinnacle named 'Bab n'Ali' - translated as the 'Gates of Ali'
It is very hot in the summer and can be bitterly cold in winter. For this reason a good time to visit is from October to March when temperatures during the day are around 20 degrees Centrigrade, though the nights are well below freezing.
For trekkers who want to get off the beaten track Jebel Sahro is ideal. The highest point of the Sahro is 2712m with most passes between 1500m and 2500m. Most of the walking is easy with about 6 hours walking each day – leaving plenty of time for enjoying the scenery and relaxing at the end of the day.