Experience The Atlas
Experience The Atlas
This 6 hour, guided walk is ideal for those who want to experience the Atlas mountains and magnificent scenery and learn something of the Berber way of life.
Trek Itinerary
Starting from Imlil (1740m), the main starting point for treks into the High Atlas, it is a circular walk along mule tracks and through the typical Berber villages of Tinerhourhine and Ikiss and Amskere where we will have our picnic lunch. We will then return to Imlil via Aguerssioual along the valley of the Mizane. The walk is not difficult but includes the crossing of two passes, Tametert (2279m) and Aguerssioual (2260m) from where there are spectacular views across the Toubkal region.
Included in the price is the transfer from and return to Marrakech, the services of an English-speaking guide and a picnic lunch. If you wish to spend the night in Imlil ( a busy market town with shops and cafes and a major trekking centre), we can arrange accommodation to suit your needs (hotel or gite).
About The Toubkal Region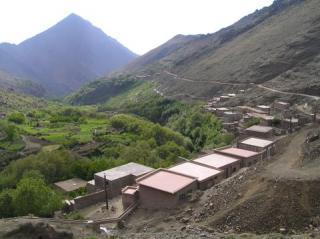 This is the most popular area with trekkers : easily accessible from Marrakech, it is an area of stunning scenery, high mountains (including Toubkal, the highest mountain in north Africa at 4167m) and typical Berber villages.
The area is criss-crossed by mule tracks that cross high passes and descend into deep valleys, passing summer pastures and terraces of maize, potatoes and other crops and orchards of walnut, apple and cherry. Imlil is the main trailhead for the area.