Imlil – Tachedirrt –Oukaimeden – Timichi – Setti Fatma
Imlil – Tachedirrt –Oukaimeden – Timichi – Setti Fatma
This is a longer version of the 3 day trek to Setti Fatma from Imlil, slightly more demanding and with one high pass at 2920m.
Trek Duration:
4 days / 3 nights
Trek Itinerary
Day 1 : Marrakech -Imlil – Tachedirrt
We leave Marrakech after breakfast for the 11/2 hour drive to Imlil, which at 1740m is the main starting point for treks into the High Atlas. Here we meet our mule team and set out on a two hour uphill hike to the Tamerte Pass (2279). On the way we will see typical flat-roofed Berber villages surrounded by small terraced plots of land. We continue to climb gently until we reach the large village of Tacheddirt (2291m) where we stop for the night, in a village guest house or in tents outside the village.
Day 2 : Tachedirrt - Oukaimeden
Our route takes us to the ski station of Oukaimeden and on the way we will see the ski slopes and ski lifts. We set out after breakfast on on our 5 to 6 hour trek, climbing up to the N'Eddi Pass (2920m) before our gradual descent to the ski station where we will spend the night in the refuge or in tents.
Day 3 : Oukaimeden – Timichi
This is a longer day with 6 to 7 hours walking. Passing through the summer pastures of Tiferguine we climb steeply to the N'ouhattar Pass (3100m). We then descend through small Berber villages to reach Timichi where we spend the night in a Berber house or camp.
Day 4: Timichi – Setti Fatma
We set out after breakfast for a 4 to 5 hour descent to Setti Fatma. On the way we pass through terraced fields and orchards, irrigated by the many streams coming down from the mountains. Our trail takes us through the small Berber villages of Anfli and Tadrart before we stop for lunch just outside Setti Fatma. After lunch there is time to explore this well known Berber village or visit its waterfall before our transfer back to Marrakech or Imlil.
About The Toubkal Region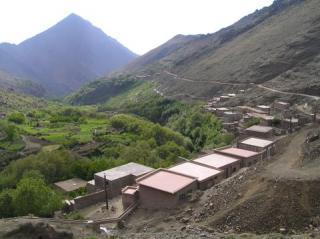 This is the most popular area with trekkers : easily accessible from Marrakech, it is an area of stunning scenery, high mountains (including Toubkal, the highest mountain in north Africa at 4167m) and typical Berber villages.
The area is criss-crossed by mule tracks that cross high passes and descend into deep valleys, passing summer pastures and terraces of maize, potatoes and other crops and orchards of walnut, apple and cherry. Imlil is the main trailhead for the area.