Toubkal Summit
Toubkal Summit
This is a demanding, intensive climb – from Imlil (1740m) to the summit of Toubkal (4167m) and back in two days. Because there is little time to acclimatise, there is the risk of altitude sickness. However, it is a good option for those with very little time and a reasonable level of fitness.
Trek Duration:
2 days / 1 night
Trek Itinerary
Day 1 : Imlil – Sidi Chamarouch – Toubkal Refuge
After transfer from Marrakech to Imlil where we meet our mule team and guide, we set off up the trail towards Sidi Chamarouch, (2500m) the site of a shrine (closed to non – muslims), but the shops and cafes are open to all. Here we will have a picnic lunch, before continuing up the mule trail to the Toubkal refuge (3200m) – a total climb of 1500m from Imlil and about 6 hours walking. Here we can either stay in dormitories in the refuge or camp outside. Either way we will enjoy a tasty evening meal of typical Moroccan food and of course mint tea!
Day 2 : Toubkal Refuge – Toubkal Summit – Imlil
After an early breakfast, around 5am, we set off for the summit of Toubkal, neartly 1000m above us. Technically this is not a difficult ascent, but it is demanding with sections of scrambling and loose scree – depending on fitness a climb of 3 or 4 hours. However, it is worth the effort! The views from the top are stupendous, north over the plain of Marrakech and south to the Sahara. We look down on many other peaks in the High Atlas and the village of Imlil – our starting point – is tiny below us. After time for a snack and photos at the top, we start to retrace our steps to the refuge where we arrive in time for a welcome lunch. After lunch we set off down the trail to Sidi Chamarouch and finally Imlil. The descent is not difficult but it is long and we arrive in Imlil late in the afternoon. Here our transport is waiting to take us back to Marrakech.
VARIATIONS
1) If you wish to stay overnight in Imlil before returning to Marrakech, this can be arranged. Imlil is a large village, the main trailhead for treks in the Toubkal area, and has shops, cafes and accommodation.
2) If you have the time another option is to spend an extra night at the Toubkal Refuge, either before the ascent (to acclimatise with short walks) or after the ascent (to recover and enjoy the scenery).
About The Toubkal Region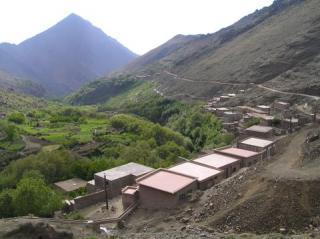 This is the most popular area with trekkers : easily accessible from Marrakech, it is an area of stunning scenery, high mountains (including Toubkal, the highest mountain in north Africa at 4167m) and typical Berber villages.
The area is criss-crossed by mule tracks that cross high passes and descend into deep valleys, passing summer pastures and terraces of maize, potatoes and other crops and orchards of walnut, apple and cherry. Imlil is the main trailhead for the area.