Accommodation in Aremd
Accommodation in Aremd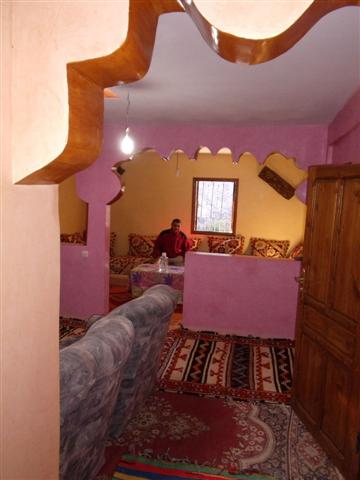 Trek Atlas recommends the family-run Dar Krinous Guest House for an overnight stay or as a base from which to explore the surrounding area. From the terrace guests can sip mint tea and enjoy uninterrupted views of Toubkal and the neighbouring peaks. On cold evenings there is the welcome of the fire in the salon while planning the next day's walk and enjoying a traditional Moroccan evening meal including tajine or coucous.
Located in the heart of the village, within a few metres of the village hamman, Dar Krinous enables guests to experience a little of the way of life in a typical Berber village
Dar Krinous has
3 bedrooms, one with en suite, the others with adjacent shower room and toilet. Each bedroom can accommodate up to 4 people
Hot showers
2 terraces with panoramic views of the surrounding mountains, including Toubkal
Salon with fireplace and separate dining area
Dar Krinous – named after the nearby waterfalls - is ideal for walkers who are looking for typical Berber accommodation and hospitality at a very reasonable price.
Rates are around 12€ per person per night for bed and breakfast, depending on group size and length of stay and 10€ per person for evening meal.
For more information and to check availability and rates, email treks@trekatlas.com