Accommodation In Marrakech
Accommodation In Marrakech
Marrakech is certainly worth a stay of at least a night before and after a trek, preferably longer.  Although there are Western-style hotels on the outskirts, we recommend you stay in a traditional riad (small hotel usually with an enclosed, central courtyard) near to the main square of Jemaa el Fna, in the heart of the medina.
Trek Atlas recommends 4 traditional riads, Riad La Belle Epoque and Riad Linda and El Arsa and Riad Maroc. All are close to the main square, are typically Moroccan and offer excellent value for money.
---
Riad La Belle Epoque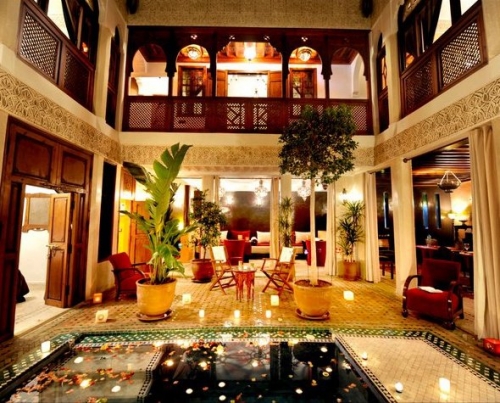 Riad La Belle Epoque is situated in the historic heart of Marrakech, a few minutes walk from the main square of Djmaa el Fna. Run by a Spanish company , it is Moroccan staffed and has a distinctly Moroccan atmosphere and cuisine.
Riad La Belle Epoque is listed on Tripadvisor and is consistently rated as excellent. To read guest reviews visit http://www.tripadvisor.co.uk/Hotel_Review-g293734-d1942428-Reviews-Riad_....
Riad La Belle Epoque has 7 spacious rooms. Each room is decorated with Art Deco furniture and objects combined with traditional Moroccan style and is dedicated to female characters from the 1920's, such as Isadora Duncan, Coco Chanel and Josephine Baker.
All rooms are equipped with free WIFI, air conditioning / heating and bathroom facilities.
All the food – breakfast and the optional evening meal – is freshly prepared and typically Moroccan.
The hotel has a roof terrace with sunloungers and on the ground floor, in the traditional courtyard, is a lounge area with plunge pool and for colder evenings a living area with fireplace where you can relax.

---
Price guide
Prices start at around 70 euros a night for a room for 2 persons. Breakfast and tax included in the price.
---
Booking
To book, check availability or for more information email treks@trekatlas.com.
---
Riad Linda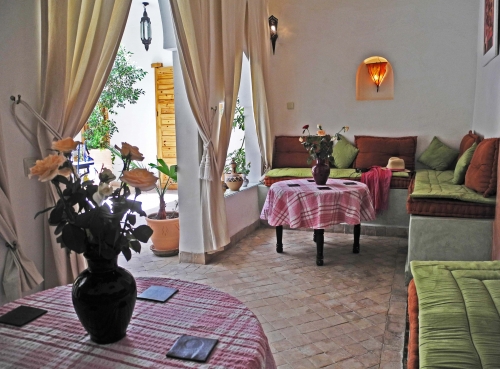 Riad Linda is a lovingly restored, beautiful old house, peacefully situated in a very welcoming neighbourhood in the heart of the Marrakech medina yet only five minutes walk from the souks and Jemaa el Fna Square.
The Riad has been completely renovated to a high standard by local craftsmen yet retains many distinct & characterful features as well as modern comforts. - including a beautiful plant filled courtyard garden. Traditional finishes such as tadelakt and zillege have been used throughout
Riad Linda has a beautiful dining courtyard, bhou (salon) with fountain & a large, sunny, roof terrace ideal for breakfast, dining under the stars or relaxing on sun loungers. Our traditional Bedouin tent provides a lovely shaded area. From our terrace there are views towards the Koutoubia Mosque which looks even more spectacular when lit up in the evening. There are also views across the medina to one of the royal palaces, local mosques & the High Atlas Mountains.
We have 6 bedrooms. All our bedrooms are twin / double rooms. We also have our lovely spacious Douria Suite on the first floor. Our beds all feature cotton sheets, duvets, & blankets for your comfort. Our bedrooms are all en suite with large walk in showers & traditional tadalect walls. All towels & linen are supplied & there are hairdryers in all the rooms.
Individual air conditioning / heating units are also in each room to ensure your comfort.
---
Price guide
Our room rates range from 60 Euros – 75 Euros per night. Our prices include home made Moroccan breakfast & all taxes.
Our Orange Room can accommodate up to 4 people. Please contact me for details & prices.
There is a 10% discount for all Trek Atlas guests.
Our rates are fully inclusive of breakfast, housekeeper, concierge service, mint tea on arrival, complimentary water & free wi - fi.
Our helpful & friendly English and French speaking staff at the Riad will provide a warm welcome with mint tea. We have our own cook available to prepare wonderful home made Moroccan cuisine such as lemon chicken with olives, lamb tajine, vegetarian couscous.
---
Booking
To book, check availability or for more information email treks@trekatlas.com.
---
El Arsa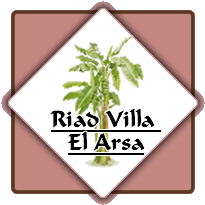 Villa El Arsa, a  traditional  well established riad, is perfectly located in the heart of the Medina of Marrakech, near the vibrant main square of 'Place Jemaa El F'na' with its  snake charmers,  story tellers and  medicine men.

With its simple rustic charm, Villa El Arsa is the ultimate retreat for those who are after a bit of peace and tranquillity in beautiful surroundings after the bustle of Marrakech.  As you step through the wooden door, you will find Morocco's inimitable allure reflected in this wonderful sanctuary, characterised by its well planted  courtyard and refreshing  pool.

 The Riad's  facilities include:
4 double/twin  air-conditioned /heated bedrooms (one with an extra bed) all rendered in calm neutral tones with splendid   ensuite bathrooms, ( either walk-in showers or deep bath tubs) both of which have been created out of traditional Moroccan 'Tadalakt'.  The bedrooms are ranged around the first floor gallery.
 Welcoming central courtyard set up with table and chairs.
Small pool to one side.
Sitting room with open fireplace
Roof top terrace with sun loungers, also with a shaded sitting area with fireplace  for cooler  evenings.   
Dining area on roof for breakfasts and dinners
wireless connection.
Excellent Moroccan cuisine (highly recommended , especially on the first night)
---
Price guide
68--85 euros a night for a room for 2 persons. Breakfast and tax included in the price.
Price for triple room available on request..
---
Booking
To book, check availability or for more information email treks@trekatlas.com.
---
El Arsa Guest reviews/feedback
Villa El Arsa, Marrakech: - An outstandingly friendly, young staff team. Light and cheerful, both our room and the common areas, which were inviting; good use made of the roof terrace for breakfast. Fresh flowers around the place. We had 2 evening meals, cooked to our choice, both excellent, and a wonderful ambience created with the lighting, candles, rose petals on the table, etc. Breakfast also good and plentiful. We appreciated being able to use the house laptop for emails.
I just wanted to let you know that we had the most wonderful time in Marrakech and we loved the Riad Villa El Arsa which was everything we hoped for – so peaceful after the hustle and bustle of the Medina, very pretty and full of character.
Brahim and all the staff looked after us beautifully and we very much hope to visit again next year!
In the meantime I will be sure to recommend the Villa El Arsa to any friends lucky enough to be heading to Marrkech!

Thank you very much and to all the staff too.
---
Riad Maroc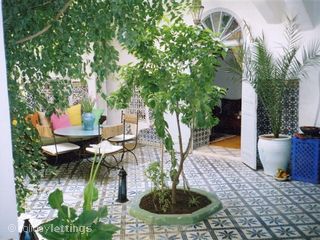 Riad Maroc. is a charming traditional Riad ,situated in good area of the Medina. at Dar Bacha,, close to the souks and a short distance from Gueilliez new town.
Riad Maroc is a well equipped self catering riad, with 4 bedrooms (sleeping up to 8) and 3 bathrooms . It is well set out over 2 floors with a salon and 2 bedrooms on each floor and a well planted roof terrace for al fresco relaxation and dining.
Staff can prepare delicious Moroccan food and take excellent care of the guests. We offer well priced and delicious meals on request
It is ideal for exclusive rental but can be rented on a room only basis subject to availability. Rooms are from £40 per night and sole occupancy is well priced for exclusivity.
---
Booking
To book, check availability or for more information email treks@trekatlas.com.
---
Riad Maroc Guest reviews/feedback
Riad Maroc, Marrakech:
We stayed for 1 week at the Riad Maroc and found it was exactly what we were looking for. We wanted something which would give us a real sense of the culture of Marrakech yet at the same time enough of our creature comforts. The Riad is managed by a really friendly and caring couple who originate from the area with the owner of the Riad close by, only being next door. We found them highly attentive and helpful throughout our trip. The food provided was to a really high standard. The breakfasts are great! The beds were really firm with hotel quality pillows meaning that I slept better there than my bed at home. I would definitely recommend the Riad to others wanting a similar sort of holiday to us. Probably not the place to go if you were planning on spending most of your time within the accommodation like you would on a hotel complex- there is no pool there(Riads do not have them generally), but perfect if you want a base from which you come and go as you enjoy everything there is to see and do in Marrakech.
Oasis!
Imagine spending a day in the hustle and bustle of Morocco's Marrakech, wandering the souks, eating exquisite cuisine, shopping till you drop and sipping coffees at one of the many cafes. It is hard work sometimes, especially in the heat of the day. Then, you wander back to Riad Moroc . Oh my goodness! Tranquil, authentic, charming and quite honestly the best treasure I have found anywhere in the world. You will simply fall in love with it, and that's before you walk in the front door. The riad has been kept to its original charm. Traditional, with the most sumptuous bedrooms, and delightful bathrooms. My favorite being the blue room downstairs and the magnificent bath which I happened to fall asleep in a few times. Riad Maroc has the most attentive staff who will dote on you, prepare you most awesome meals when you need, and give you tips about Marrakech that only the locals know about. Breakfast on the roof terrace is a must and taking mint tea there in the afternoon is a great way to relax. The most wonderful place to stay for a romantic getaway, and fabulous to go there with a group of friends.
I cannot recommend this Riad enough. You will fall deeply in love with it and will go back and back and back. I certainly have!!

Mikon, London