Imlil – Lepiney – Toubkal Summit
Imlil – Lepiney – Toubkal Summit
This trek is recommended for trekkers with limited time and includes the Aguelzim Pass (3560m) and Toubkal Summit.
Trek Duration:
4 days /3 nights or 3 days / 2 nights
Trek Itinerary
Day 1 : Imlil – M'Zikk Pass – Tamsoult – Lepiney
Transfer from Marrakech if required to Imlil, the start of the trek and a bustling market town. Alternatively we can arrange accommodation in Imlil. From Imlil(1740m) we set off with our mules for the round trip to the Toubkal summit and back. The trail leads us south west of Imlil and climbs up a valley and over the M'zik Pass (2450m). We continue to climb through summer pastures, past waterfalls to arrive at the Lepiney refuge after 6 hours walking. Here we spend the night.
Day 2 : Lepiney – Toubkal Refuge
We are starting to acclimatise as we climb up to the Aguelzim Pass (3560m) before descending gradually to the Toubkal Refuge (3207m) where we spend the night, either camped outside or in the refuge. A total of 5 hours walking, giving time to relax or explore the area around the refuge while dinner is prepared.
Day 3 : Toubkal Refuge – Toubkal Summit – Imlil
This is a long day with an early start! From the refuge we climb steeply for 2 to 3 hours to reach the Toubkal summit (4167m) and enjoy the magnificent views across the Atlas range and the Marrakech plains and the Sahara desert to the south. We then return to the refuge for a quick lunch and then descend as far as Sidi Chamarouch. From here we continue our rapid descent back to Imlil where we arrive late in the afternoon and where we stay the night in a gite.
Day 4 : Imlil – Marrakech
After breakfast and the chance to look around Imlil, transfer back to Marrakech.
It is possible to combine Days 3 and 4 – though it is exhausting! – and return to Marrakech at the end of Day 3, arriving late evening in Marrakech.
About The Toubkal Region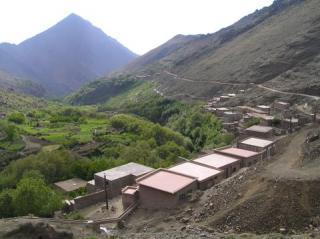 This is the most popular area with trekkers : easily accessible from Marrakech, it is an area of stunning scenery, high mountains (including Toubkal, the highest mountain in north Africa at 4167m) and typical Berber villages.
The area is criss-crossed by mule tracks that cross high passes and descend into deep valleys, passing summer pastures and terraces of maize, potatoes and other crops and orchards of walnut, apple and cherry. Imlil is the main trailhead for the area.