Two Valleys Trek
Two Valleys Trek
This is recommended for inexperienced trekkers with limited time who want to experience the Berber way of life and the magnificent Atlas scenery without too demanding walking.
Trek Duration:
3 days / 2 nights
Trek Itinerary
Day 1 : Aguersioual – Matate– Ait Aissa
Transfer from Marrakech to Aguersioual (1600m) where we pick up the mules and have mint tea before walking up the valley to the village of Matate for lunch. After lunch we continue over the Tizi Oudite pass (2210m) to reach the Berber village of Ait Aissa where we stay overnight in a guesthouse. About 4 hours walking.
Day 2 : Ait Aissa – Tizi Oussem –Tamsoult
We leave Ait Aissa after breakfast and walk along the Ait Oussadene valley to Tizi Oussem, the last Berber village along the valley. We then continue to the refuge at Tamsoult where we have lunch. After lunch we walk the short distance to the Lepiney Gorge with its famous waterfall before returning to the refuge for our evening meal and where we stay overnight.– a total of about 5 or 6 hours walking.
Day 3 : Tamsoult – Tizi Mzik – Imlil
After breakfast we start to walk down before climbing up over the Tizi Mzik pass (2000m) before descending once more to Imlil to pick up our transport back to Marrakech. A total of about 4 to 5 hours walking.
About The Toubkal Region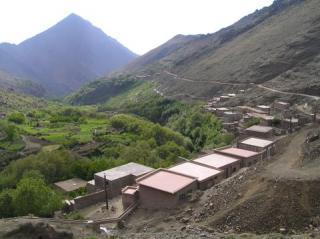 This is the most popular area with trekkers : easily accessible from Marrakech, it is an area of stunning scenery, high mountains (including Toubkal, the highest mountain in north Africa at 4167m) and typical Berber villages.
The area is criss-crossed by mule tracks that cross high passes and descend into deep valleys, passing summer pastures and terraces of maize, potatoes and other crops and orchards of walnut, apple and cherry. Imlil is the main trailhead for the area.