Three Valleys Trek
Three Valleys Trek
This is recommended for inexperienced trekkers with limited time who want to experience the Berber way of life and the magnificent Atlas scenery without too demanding walking.
Trek Duration:
3 days / 2 nights
Trek Itinerary
Day 1 : Imlil – Tamertert Pass – Tachedirrt
Transfer from Marrakech if required to Imlil where we pick up the mules and set off for the Tamertert Pass(2279m), a climb of 500 m up from Imlil which will take about 2 to 3 hours. On the way we pass through terraced fields and orchards, irrigated by the mountain streams. From the pass we descend through the village of Ouansekra to Tachedirrt where we stop for the night either in a Berber house or in tents near the village. A total of 5 hours walking.
Day 2 : Tachedirrt – Ikiss – Matate – Ait Aissa
We leave Tachedirrt and follow the valley of the Imenane River through several typical Berber villages as far as Ikkiss. Here we leave the valley and head up over the n'Aguersioual Pass(2200m) , then descend to the Mizane River which flows through Imlil. We cross the metalled road leading to Imlil, and climb up the valley side to the village of Matate. From here we continue to climb, over the Oudite Pass(2219m) before once more descending to the valley of the Oussadene River. We camp for the night in Ait Aissa – a total of about 5 or 6 hours walking.
Day 3 : Ait Aissa – Mzik – Imlil
We follow the river valley up – a gentle climb – to the Oussemm Pass(1722m). After this we climb more steeply to the Mzik Pass (2489m) before dropping down to Imlil, passing the summer pastures of Mzikene on the way. A total of about 4 to 5 hours walking.
About The Toubkal Region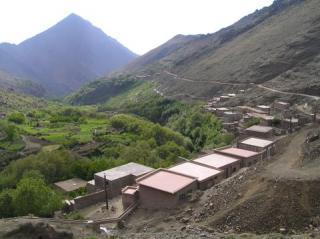 This is the most popular area with trekkers : easily accessible from Marrakech, it is an area of stunning scenery, high mountains (including Toubkal, the highest mountain in north Africa at 4167m) and typical Berber villages.
The area is criss-crossed by mule tracks that cross high passes and descend into deep valleys, passing summer pastures and terraces of maize, potatoes and other crops and orchards of walnut, apple and cherry. Imlil is the main trailhead for the area.