Welcome To Trek Atlas: specialists in treks and desert tours in Morocco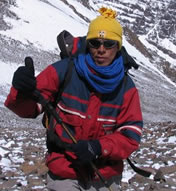 My name is Ahmed Zin. I am a Moroccan guide born in the High Atlas where I still live. I am a certified tour guide and a graduate of the Royal Moroccan Federation of Skiing and Mountaineering. I speak 5 languages: Berber, Arabic, English, French and Spanish.
We are trekking specialists based in Imlil in the High Atlas in Morocco and organise treks and tours in the Atlas Mountains and Sahara desert of Morocco - walking, camel, 4X4 along with skiing and winter tours. We specialise in treks into the Atlas Mountains of Morocco – Toubkal, M'Goun ,Sirwa and Sahro ranges and Amezmiz valley – which can be tailor-made to suit your needs, from a one day guided walk to complete treks. Our itineraries can be adapted to the number of days available, size of group (from single travellers to large groups), level of fitness and accommodation required.
For a different experience we highly recommend a 3, 4 or 5 day Desert Tour combining ancient and modern accommodation and transport. Travel along the Old Salt Road by air conditioned 4X4, staying overnight in hotels and visiting the world famous Todra and Dades Gorges and the World Heritage site of Ait Benhaddou, the backdrop to many films. Take a camel ride into the desert at sunset, spend a night camped with the desert Nomads under the Saharan stars and return by camel as the sun rises.
Or, for those who want to
experience a bit of everything
, how about a Combined Trek and Desert Tour? This can be tailor made to fit in with the time available, your level of fitness and particular interests. A typical Combined Tour lasts a week and includes Marrakech, a walking trek in the Atlas mountains, desert tour - and if you want to pack a lot in, even a visit to the famous coastal resort of Essouira.
Find out more.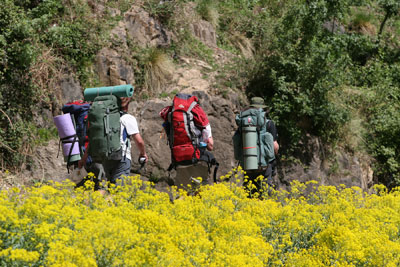 Please contact us with details of what you want and we'll suggest the best tour for you. Our aim is to provide you with a memorable holiday, at reasonable cost, combining physical challenge, spectacular scenery and an insight into the Berber way of life.
All our treks include transfer from and to Marrakech, accommodation, traditional Moroccan food, English-speaking guide and mules or other transport. Please see our Frequently Asked Questions for further information.
For most visitors the gateway to the Atlas is the imperial city of Marrakech and is well worth a stay of at least one night. The bustling Berber town of Imlil, the start for many of our treks, is also well worth spending an extra day in. Or higher up the valley with stunning views of Toubkal is the quieter, traditional Berber village of Aremd, ideal as a base or for an overnight stop. Look at our
Accommodation section
for information about selected riad (guest house) accommodation in Marrakech and Imlil and Aremd at reasonable prices.
NEW! Meditation Retreats: combine a meditation retreat with time in the Atlas Mountains. For more information visit our Activities We Offer section.
Please do not hesitate to contact us with any questions.
We look forward to welcoming you to the Atlas Mountains of Morocco.