Jebel Sirwa Summit from Tamlakout
Jebel Sirwa Summit from Tamlakout
Trek Duration:
7 days / 6 nights
Trek Itinerary
Day 1 : Transfer from Marrakech to Tamlakout in the heart of the Sirwa area. Night in Berber house (gite)
Day 2 : We meet the mule team and set off for Ait Tigga (2000m) where we set up camp. 5 hours walking
Day 3 : We cross Ait Tigga and Ait Ighmour (2100m) and make the ascent over the pass (2700m) before descending to Assif Mdist where we stay the night. 7 hours walking.
Day 4 : A day of magnificent scenery in the heart of the Sirwa, before setting uop camp at the foot of Jebel Sirwa. 6 hours walking.
Day 5 : Ascent of Jebel Sirwa (3305m). A demanding day's walking, but we are rewarded with spectacular views from the summit. We descend to our campsite. 6 hours walking.
Day 6 : A day of climbing. – Tizi Isdrim (2700m) and Tizi n'Talat – before arriving at our campsite at Azioune. 7 hours walking.
Day 7 : We traverse the Amassines to find our transport back to Marrakech. 3 hours walking/ driving.
About The Jebel Sirwa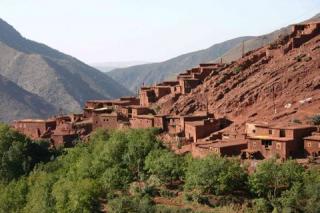 The Sirwa Massif lies to the south of the Toubkal area on the boundary between the High Atlas and the Anti-Atlas.
It is an area of beautiful valleys and mountain peaks, with typical Berber villages surrounded by almond trees and fields of saffron – the only area in Morocco where saffron is harvested. Sirwa itself is an extinct volcano (3305m) surrounded by a number of other peaks around 3000m. It is snow-capped most of the year. The area is less popular than Toubkal and harder to reach but offers varied and challenging trekking and the opportunity to get off the beaten track.